Montreal Canadiens: Marc Bergevin's Most Controversial Moves Prove To Be His Best
Montreal Canadiens general manager Marc Bergevin has received heavy criticism for some of his recent trades. The deals that seemed the most controversial at the time have proven to be his best.
The Montreal Canadiens hired Marc Bergevin to be the team's general manager in 2012 after an abysmal season. The Habs squeaked into the 2010 postseason and had Jaroslav Halak and Mike Cammalleri carry them into the Eastern Conference Finals. They had another decent season in 2010-11 and fell in heartbreaking fashion in overrate of Game 7 to the eventual Stanley Cup champion Boston Bruins.
In 2011-12, nothing went right and the team was nowhere near the postseason. They were optimistic heading into the season because Max Pacioretty and Andrei Markov were back from season ending injuries and were key players in the lineup. They lacked enough scoring punch but had added Erik Cole in the offseason and he was surely going to help them score goals.
Cole did just that, and Pacioretty was even better than imagined, bouncing back from a potentially career ending injury to lead the team in points with 65. This gave the team some positives to work with heading into the 2013 lockout shortened season. Added to those positives was the fact the team just drafted Alex Galchenyuk third overall in the draft as Berevin's first pick and they had young cornerstones on defence and in goal with P.K. Subban and Carey Price.
We all know how things worked out since then, but Bergevin inherited a team that had an 18 year old Galchenyuk, a 23 year old Pacioretty, a 23 year old Subban and a 25 year old Price. This was supposed to be the core he built his team around. He tried to do that, but three of the four players have been traded since as the Canadiens shifted the focus of their plan.
Bergevin traded away P.K. Subban, Alex Galchenyuk and Max Pacioretty and, of course, all three deals were heavily scrutinized. None of them were widely celebrated at the time of the trade, but in time all of the trades look like absolute steals for the Canadiens.
The first of the original "Bergevin core" to be dealt was Subban. He was swapped one-for-one to the Nashville Predators for Shea Weber. You didn't have to dig deep or look far to hear that Subban is younger, costs less and has less term on his current contract.
In his last year with the Habs, Subban put up 51 points in 68 games. Weber had 51 points in 78 games that season. Popular opinion at the time suggested the Habs got the better all-around player for the short term, but would severely regret the deal in the long term because Weber is signed until he is 41 years old.
This is the fourth season since the trade. At this point in time, things were supposed to tilt heavily in favour of the Predators. Weber has nine goals and 23 points in 30 games and is regularly the most used defenceman on the Canadiens. He plays heavy minutes at both ends of the ice and is on the fringes of a Norris Trophy nomination at this point in the season.
Subban was dealt last summer for a bundle of players you've never heard of and has just five points in 29 games. He was really good for the Predators for two years, was okay in his third season in Nashville but has been brutal for the New Jersey Devils this season. He has a cap hit of $9 million for the next two years and the Canadiens and Predators both look very wise at this moment for getting away from that contract.
The next big trade of a "core" piece was Galchenyuk being sent to the Arizona Coyotes for Max Domi. This trade was made in June of 2018 and all summer long we heard that Domi only scored nine goals the season prior and four of them were empty-netters. I have never heard so much about what percentage of a player's goals were scored into an empty net in my life.
Anyway, the trade was not accepted with glee in Montreal. Habs fans loves Galchenyuk, he had once scored 30 goals and played some center in the past. Bergevin gave up on him far too early we said. Domi can't score goals when there is a goaltender in the net, we said.
We were quite wrong. Domi immediately exploded for a career year, scoring 28 goals and 72 points in 2018-19. In 72 games in Arizona, Galchenyuk managed 19 goals and 41 points. This season, Domi has been struggling of late but has 18 points in 30 games. Galchenyuk has two goals and ten points in 21 games for the Pittsburgh Penguins.
Oh yeah, the Penguins, because, the Coyotes traded him after one season and pretty much immediately realized he can't play center which took us like seven years to figure out in Montreal. Hockey Night in Canada mentioned last night that Galchenyuk is on the trade block once again.
It was inconceivable to many Habs fans that Bergevin would even consider trading Galchenyuk a year and a half ago. He was quickly traded from Arizona after one season and it looks like he may be shipped out of Pittsburgh in short order once again. All while Domi has put up 90 points in 112 games with the Habs.
I think a lot of people owe Marc Bergevin apologies for calling for his firing in June 2018.
Pacioretty was the final player traded that we thought was a core piece when Bergevin arrived. Most of summer 2018 was spent waiting for the deal to occur so it wasn't a huge shock when it finally happened on the even of training camp.
Even though it was expected didn't mean it was well received by Habs fans. The return was, like always, heavily scrutinized and mostly mocked. Tomas Tatar was washed up after a poor showing in Vegas we were told. Nick Suzuki wasn't a great skater and Bergevin should have held out for Cody Glass was a popular refrain. Getting a second round pick instead of a first was ridiculous, many said.
Then, these people actually played hockey games and we saw what a great return Bergevin actually got for Pacioretty. The former Habs captain scored 40 points in 66 games with his new team. Tatar scored 58 in 80 games while Suzuki torched the OHL and basically won the OHL championship by himself.
This season, Pacioretty has bounced back with 26 points in 31 games. Tatar has matched him stride for stride with 25 points in 30 games. Suzuki cracked the roster as a 20 year old rookie and has 15 points in 30 games.
Pacioretty has been good for Vegas, but Tatar has been just as good for Montreal and Suzuki has been a revelation since being acquired from the Golden Knights. There is no question that the Habs got the better end of what was once a controversial deal with Vegas.
Bergevin got so much hate for each of the Subban, Galchenyuk and Pacioretty trades that you could argue his job depended on the outcome of the deal. If Weber was the old, decrepit defenceman that we were told he would be by now and Subban was up for the Norris Trophy, Bergevin would be looking for work.
If Galchenyuk became a consistent 30 goal scoring center for the Arizona Coyotes and 44% of Domi's goals continued to come from empty-netters, Bergevin would be fired. If Tatar continued to struggled, Suzuki couldn't keep up with the NHL and Pacioretty was scoring 30 goals each year for the Golden Knights, there would be a new general manager in Montreal.
However, that all didn't happen. In fact, none of it happened. Pacioretty is having a great season but it is being outmatched by Tatar and Suzuki. Galchenyuk and Subban don't even look to have the skills to be NHL players anymore but Domi and Weber have been great for the Habs.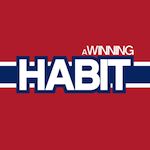 Want your voice heard? Join the A Winning Habit team!
Write for us!
These trades were so controversial at the time of them happening that many thought Bergevin couldn't bounce back from them. The opposite has occurred. Trading these three players who were once thought to be the core that Bergevin would build around have proven to be three of the best decision in Marc Bergevin's tenure as general manager of the Montreal Canadiens.