Cayden Primeau gets the call for the Montreal Canadiens
As Keith Kinkaid prepares to regain his confidence with the Laval Rocket, the Montreal Canadiens have recalled Cayden Primeau to take his place
The Montreal Canadiens being engaged on the waiver wire Monday afternoon was a surprise despite the need for some kind of shake up on the roster. Keith Kinkaid's 1-1-3 record, along with his .875 save percentage, wasn't getting it done, and in an attempt to help him regain his confidence, the team chose to send him down. In his place, we now know that Cayden Primeau will be backing Carey Price up as the Habs prepare for a three-game week.
Kinkaid hasn't been in the AHL since the 2014-15 season when he was part of the New Jersey Devils organization. He only played 13 games that year spending most of the time in the NHL, but he posted a .923 save percentage in that stint. The 30-year-old put the minors behind him since, but he'll be back there this week unless a team claims him off of waivers.
As far as pure talent goes, Charlie Lindgren isn't the better of the two goaltenders in Laval. Cayden Primeau has a better record and overall save percentage than Lindgren in his rookie year. The "rookie" part of that previous sentence is why it's right for the Montreal Canadiens to keep him in the AHL and instead recall Lindgren.
Lindgren has 18 games of NHL experience in his resume, with the most being during the 2017-18 season. The 25-year-old went 4-8-2 in 14 games sporting a .908 save percentage giving the Montreal Canadiens opportunities to win each start. Primeau, on the other hand, has established himself as the number one for the Laval Rocket and will likely get an opportunity to play his first NHL game this weekend.
Some may argue the Montreal Canadiens should've left Primeau in the minors to play games, but the 2017 seventh-round pick has deserved this opportunity. He's defied the odds standing out at Northeastern University and bringing that same level of play to the AHL. Now it's time to see if he can be as effective against NHL players considering how many are considering Primeau the next one.
At the same time, Primeau going up ensures Kinkaid can actually play down there, which is the point of this transaction in the first place.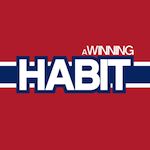 Want your voice heard? Join the A Winning Habit team!
Write for us!
A side piece to all of this is Matthew Peca joining Primeau on the way up. Peca has four goals and eight assists in 14 games for Laval and likely joins the lineup as Claude Julien tries to find something that works on the roster.
Will it? We'll see, but it's an exciting time for Cayden Primeau and his family as another one makes the NHL.