Montreal Canadiens: Why Shea Weber's Contract Will Never Be A Problem For Habs
The Montreal Canadiens have Shea Weber under contract for six more years after this season. He is 34 years old, but this contract is never going to be an issue for the Habs.
The Montreal Canadiens acquired Shea Weber in a trade that was not very popular among their fans. P.K. Subban was sent to the Nashville Predators, and though he wasn't universally accepted by Habs fans, those who liked him, liked him a lot, to borrow a phrase from a popular beverage in Atlantic Canada.
There was definitely some risk in the trade for Habs general manager Marc Bergevin. Weber is four years older than Subban and signed to an enormous 14 year contract that doesn't expire until 2026 when he will be 40 years old. His cap hit is about $1.2 million less than Subban's, but Subban is only signed until he is 32.
After the trade, the Predators wouldn't have to worry about a player in their late thirties being on their roster with a large cap hit. However, after employing Subban for three seasons, they decided they didn't want him on their roster when he was in his early thirties either. Subban was traded in June for a depth defenceman in Steve Santini, a low-level prospect in Jeremy Davies and two second round draft picks.
Consensus following the trade was that the Habs got the better defender at the time of the deal, but would regret acquiring him due to his lengthy contract.
Well, more than three years has past since the trade was made and it is becoming obvious there is no risk at all left for the Canadiens. Weber is the team's captain and is playing as well at 34 years old as he did the day he arrived in Montreal. He has 11 points in his last 11 games and is now up to 13 in 17 games on the season.
This has Weber inside the top ten scorers among defencemen this season. He trails only John Carlson, Alex Pietrangelo and Dougie Hamilton in goals scored from the blue line. Weber still plays a huge role on the Habs top power play which has been producing at a much better rate this season. He is also one of their top penalty killers and though their short-handed unit started terribly, it is slowly turning things around.
Weber is on pace right now to score 24 goals and 63 points this season. Not only is he earning his $7.8 million cap hit, he is in the early Norris Trophy conversation. Clearly, he is worth every penny of this contract at the age of 34. The question is, will he still be worth it at the age of 40 when it finally concludes?
For the Montreal Canadiens, it doesn't really matter. Sure, it would be great if he aged just like Zdeno Chara who just played a top four, shutdown role on a team that made it to Game 7 of the Stanley Cup final at the ripe old age of 41. We can't rule out the possibility that Weber is still an excellent defensive defenceman at the age of 40 who can play 20 minutes per night on the second defence pairing and continue to kill penalties.
If he does that, he would earn his pay right up until he started his fifth decade on earth. The Habs would be happy to have him that whole time and might even extend him like the Boston Bruins did with Chara. Let's call this the best case scenario.
Another scenario would be Weber becomes less effective and finds it difficult to keep up with the pace of play in a few years. His cap hit would become onerous pretty quickly if the opposition can just chip the puck in and blow by him every shift.
However, if this were to happen, just to hang on to his pride, Weber may elect to retire. If he does, it would be the Predators on the hook for an increasingly significant cap recapture penalty, not the Canadiens. When Roberto Luongo retired last summer from the Florida Panthers, it was the Vancouver Canucks slapped with a cap penalty since they signed the contract, not the Panthers who were paying him at the time.
A great & detailed table taken from above mentioned article on Weber recapture possibilities from @CrzyCanucklehed pic.twitter.com/jb8QOvjL1g

— CapFriendly (@CapFriendly) June 30, 2016
Now, what if Weber's play drops off in the future and he doesn't want to retire? Well, the Habs could always find a long term injury reserve loophole like so many teams have done in the past. However, if you look at Weber's actual salary versus his cap hit, he might have plenty of trade value, regardless of his abilities on the ice.
Weber's cap hit, like everyone's in the NHL, never changes during a contract. He will earn just over $7.8 million against the cap until 2025-26. However, his salary this year is $6 million. It stays the same for the 2020-21 and 2021-22 seasons. Then it drops to $3 million for a year and just $1 million for the final three years of the contract.
That means from 2022-26 Weber will only earn $6 million total in salary, but will eat up over $31 million in salary cap space over those four seasons. With the salary cap going up every year, the salary floor climbs with it. That can make it difficult for smaller market teams to spend all the cap dollars necessary to stay within the restrictions of the collective bargaining agreement.
With another expansion team coming in the near future in Seattle, and a new tv (and streaming) contract due in the United States at the end of next season, the cap could jump significantly in 2021. It has been tough for teams like the Arizona Coyotes to keep up with the salary demands of even the cap floor.
This is why we have seen players like Pavel Datsyuk, Chris Pronger, Dave Bolland, Marian Hossa, David Clarkson (a few times), and Nathan Horton get traded even after they are done playing. Their salary cap hits still count against the team's official books but they are paid a tiny portion of the cap hit, or nothing at all.
Weber will be paid a high salary for two more years after this one. He is currently playing like an exceptional top pairing defender at both ends of the ice. There is no reason to believe his game is going to fall off in the next two years.
If he does start to slip anytime after that, his salary vs cap hit would be an enticing package for a team like the Arizona Coyotes to acquire. Weber would have to paid $1 million, but he would take up $7.8 million of a team's salary structure. Arizona seems to be spending more these days and hopefully have things sorted out financially.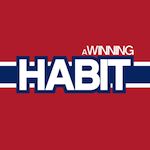 Want your voice heard? Join the A Winning Habit team!
Write for us!
However, if Eugene Melnyk is still running the Ottawa Senators in a few years and has the option to acquire Weber and basically save himself $6.8 million in spending, you can be assured he would be calling Bergevin with an offer. Let's call that the worst case scenario. It really isn't even that bad, as long as Melnyk doesn't sell the Senators in the next few years.