Montreal Canadiens: It Is Time To Move Max Domi To Left Wing
The Montreal Canadiens went many years where they did not have enough quality centres in their lineup. They suddenly have too many, and should try moving Max Domi to left wing.
The Montreal Canadiens were very desperate for centres a short time ago. In their last playoff series which was in 2017, the Canadiens had Phillip Danault as their first line centre coming off a 40 point regular season and Tomas Plekanec was their second line centre following a 28 point season.
We shouldn't have been surprised when the New York Rangers won that series in six games. We should have been surprised that the Montreal Canadiens were anywhere near a playoff series to begin with that year.
Since then, they have done a fantastic job building up their centre depth. A rapid ascension by Danault didn't hurt, but drafting Ryan Poehling and Jesperi Kotkaniemi with consecutive first round draft picks was a huge boost to the team's depth down the middle. A trade and re-signing of Nate Thompson gave them a reliable defensive player who is great a at face-offs for the fourth line role.
Another player who was not considered a centre at all when he was acquired has played exceptional down the middle. The Habs traded Alex Galchenyuk, who most fans thought would become a first line centre one day, for Max Domi who most fans thought was a gritty winger who couldn't score goals when he was acquired.
Thankfully, not only did Domi prove he could be an offensive force for the Montreal Canadiens last season, he did it while playing centre. During his first season with the Habs, Domi scored 28 goals and 72 points. There is no question he has been great at centre, but I think it is time to move him to the wing.
First of all, Domi isn't currently on a line that is lighting it up right now. He started the year with ten points in ten games, but has just one point in his last six. That point was an overtime goal against the Vegas Golden Knights during three-on-three in the extra frame, so he has no points at five-on-five in those six games.
He has been playing with Jonathan Drouin and Joel Armia and though they look fine at times, they haven't been quite clicking as a trio. Also, Jesperi Kotkaniemi could be back as soon as today and if he is, the Habs have Domi, Kotkaniemi, Danault, Poehling and Thompson as centres.
The recent addition of Poehling to the lineup changes things down the middle of the depth chart. So far, he has just filled in for Kotkaniemi, but the two youngsters are ready to play centre at the NHL level and need to develop while playing that role. This gives the Habs too many middle-men when Kotkaniemi returns.
Something has to give. That something should be moving Domi to left wing. There happens to be a perfect opening for him on the left side at the moment. Tomas Tatar has found himself in the doghouse because he can't stop taking foolish minor penalties. Tatar is a fine player and has been awesome with Danault and Brendan Gallagher. In fact, there is an argument to be made that they are one of the top five lines in the league.
However, Tatar was demoted to the fourth line for half of the Habs most recent game against the Philadelphia Flyers because of his time in the box. He is a smart, two-way winger with decent offensive upside. The Slovakia native is 28 years old and set a career high with 58 points last season. Domi is 24 years old and set a career high with 72 points last season. Hands down, Domi is a better hockey player than Tatar.
What if, instead of reuniting Tatar with Danault and Gallagher, the Habs tried Domi in that spot instead? Domi should fit perfectly with Danault and Gallagher, making the line even more dangerous offensively while not giving up anything defensively.
The Canadiens could then slot Kotkaniemi back on a line with Drouin and Armia, which was a trio that played well together early in the year. This would also leave Poehling on a third line with Tatar and Artturi Lehkonen which would be a trustworthy, two-way line. Thompson would remain as the centre on the fourth line with Nick Suzuki and Paul Byron. Nick Cousins has played well since being inserted into the lineup, but someone has to be the odd man out. Perhaps Cousins could rotate with Thompson and have Suzuki play centre when Thompson is out of the lineup.
With Poehling on the Habs roster now, there are too many centres. The Habs could elect to send Poehling back to the Laval Rocket when Kotkaniemi returns, but I think it's best to give him a longer audition. Look at how far Suzuki has come in 16 NHL games. He looked lost the first week of the regular season but has been fantastic over his last ten games. Poehling has the same level of hockey sense and would develop just as quickly.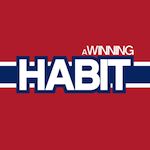 Want your voice heard? Join the A Winning Habit team!
Write for us!
Keeping Poehling in the lineup means someone has to move to the wing. There is no question the future of the Habs has Danault, Kotkaniemi and Poehling playing centre. With Poehling called up earlier this week, the future is here, and if Kotkaniemi is playing tonight, Domi should be slotting in on the left side of Danault and Gallagher.