Montreal Canadiens: Could Sebastian Aho Offer Sheet Stop Habs From Acquiring Haydn Fleury?
The Montreal Canadiens made headlines on July 1st when they signed Sebastian Aho to an offer sheet. It was a bold move with seemingly little risk for the Habs, but could it stop the teams from engaging in trade talks now?
The Montreal Canadiens headed into free agency after clearing cap space and had fans buzzing about what they could do when the floodgates opened on July 1st. They attempted to make a huge splash by signing Sebastian Aho to a five year offer sheet. The Carolina Hurricanes wisely matched the offer and kept their star centre.
There was little risk for the Canadiens at the time of the offer sheet. They either got a franchise centre for first, second and third round draft picks, or the Hurricanes kept their player and the Habs carried on like nothing happened.
It took a few days but when the Hurricanes decided to keep Aho, it meant the Canadiens had to look elsewhere to upgrade their lineup. This meant the Canes got to keep their young centre and they even said it made things easier for them as they didn't have to spend the summer negotiating with the now 22 year old star.
So, the Canadiens had to be disappointed, but the Hurricanes were fine with the result, right? They got to keep their player and didn't even need to go into a tough negotiation. No harm, no foul, right?
Wrong. Hurricanes owner Tom Dundon and general manager Don Waddell spent much of their summer angrily talking about the offer sheet and explaining like an embarrassed child that they had enough money to pay for their shiny toy.
It was well documented that the bonus structure in the contract was the main reason Habs general manager Marc Bergevin thought the Hurricanes would have to pass on the contract and take the draft pick compensation instead. Dundon was clearly angered by this and went about trying to convince anyone who would listen that he has lots of money.
That may be true, but he certainly isn't earning that income by owning the Carolina Hurricanes. If he is, why did a handful of potential general managers pass up on the job because they make more money on their current deals as assistants with other teams? The Hurricanes either don't make much money as a franchise or they have the cheapest owner in the league.
Whatever the reality of the situation is, Dundon did not appreciate Bergevin making it public that he thought he could flex his financial muscles and snatch a star player away from the Hurricanes. There is no question the relationship between the Hurricanes and Canadiens organizations was bruised over the summer.
Could the lingering tensions between the two franchises be stopping two ideal trade partners from formulating a deal? Perhaps.
It was reported on TSN's Insider Trading this week that the Carolina Hurricanes are looking to add a top nine winger and are willing to move either Haydn Fleury or Trevor van Riemsdyk to acquire that player. If there is any team in the league that could afford to move a "top nine winger" for a young defenceman, especially a left-shooting defenceman, it's the Montreal Canadiens.
Now, to me a top nine winger really means a third line winger. If the Hurricanes were holding out for a first line winger or even someone for the second line the report would have said a "top six winger" and not a top nine winger.
Also, how perfect of a fit would Haydn Fleury be with the Canadiens? He is a 23 year old physical defender who was the seventh overall pick in the 2014 NHL Draft. He has been pushed down the depth chart with the Hurricanes who have arguably the deepest group of defenders in the league.
Fleury likely wouldn't be a top pairing defender with the Canadiens, but he could be a good fit next to Jeff Petry on the second pairing. At worst he would be a regular on the third pairing, a big upgrade over Mike Reilly who currently holds down that position. If he were slotted in as the third left defenceman on the Habs, he would be partnered with his younger brother, Cale.
You couldn't ask for a better fit than that. If the Hurricanes are looking for a third line winger in return, the Habs have an abundance of those to offer up. Right now, they have Paul Byron and Artturi Lehkonen playing on the third line. Both are intelligent, two-way players that are exceptional defensively and can contribute offensively as well.
If the Habs moved one of those wingers for Fleury, they could easily move Nick Suzuki up to play in their spot on the third line. With Ryan Poehling recently called up and Jesperi Kotkaniemi nearing a return from a trip to the injured reserve, the Habs could still have a bottom six of:
Lehkonen – Kotkaniemi – Suzuki
Cousins – Poehling – Weal
That is, of course, if the Hurricanes can handle Paul Byron's salary.
A Byron for Haydn Fleury swap seems to be what the Hurricanes are looking for and it makes a ton of sense for the Canadiens as well. If it makes sense for both sides, why hasn't it happened? It is possible Dundon and Waddell's hurt feelings from four months ago are making them hesitant to deal with the Habs.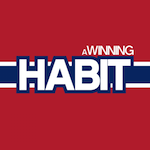 Want your voice heard? Join the A Winning Habit team!
Write for us!
It will be interesting to see when the next deal is hammered out between these two teams. If the Hurricanes can't get over the offer sheet it will be a long time before we see it happen. If they can move on from what they said was a favour from Bergevin then it could be very soon we see a deal involving Haydn Fleury coming to Montreal.