Montreal Canadiens: A Look At Charles Hudon's Arbitration Case
The Montreal Canadiens had three players file for salary arbitration. Charles Hudon was one of them but after a miserable season he doesn't have much of a case for a big raise.
The Montreal Canadiens had a trio of wingers file for salary arbitration by the deadline on Friday. This means general manager Marc Bergevin will have his hands full trying to negotiate three contracts this summer so he can avoid the painstaking process of arbitration.
Most players who file for arbitration actually agree to a contract before it gets to a hearing. That's a good thing because most of the hearings result in regret, anger, bad feelings and well, trades.
There were 44 players that filed for salary arbitration a year ago. Forty of them signed a contract before they had to go through with the process and there were four hearings. All four of those players, Cody Ceci, Jacob Trouba, Gemel Smith and Brett Kulak were dealt within a year of their arbitration hearings.
Basically how the process works is the player along with his agent and the management team enter a conference room with a third party, "judge" so to speak. The player talks about how good he is and how he deserves a huge contract. The team talks about all the things the player does wrong and why he doesn't deserve much money.
Then the arbitrator comes to a decision and tells them what the new contract will be for the player on a one year contract. Then the player plays that season but gets traded before the year ends or shortly after.
Okay, the trade is not mandatory, but it happened 100% of the time last year.
Anyway, Charles Hudon heads into his arbitration season with hardly a leg to stand on. He played 32 games this season but scored just three goals, two assists and five points. Hudon was a healthy scratch for every game after February 19th which means he sat in the press box for two straight months.
His only chance to get a half decent award from the arbitrator is to get them to focus on his 2017-18 season. Hudon had career highs in everything aside from healthy scratches that season. He scored ten goals and 20 assists for 30 points in 72 games.
Hudon will point to the contract Zach Hyman recently signed with the Toronto Maple Leafs. In 2016-17, Hyman played 82 games, scored ten goals, 18 assists and 28 points as a 25 year old winger. Hudon will describe how close those two seasons are, and that he got his points while only playing 14 minutes per night while Hyman played 16:42 per game to get those numbers.
Hyman signed a four-year deal at the end of that seasons with a cap hit of $2.25 million. Based on the similarities in the two seasons, but remembering his most recent season Hudon will ask for $1.75 million.
Bergevin will then quickly point out that when we last saw Hudon was around Valentine's Day because he couldn't be trusted to be in the lineup after that. He had five points all season and could easily be replaced in any NHL lineup. Bergevin will say he barely deserves more than minimum NHL wage and counter with $750,000.
The arbitrator will look at Hudon's poor performance this season and come to the conclusion his ask is far too much though it would be fair value if this meeting happened a year ago.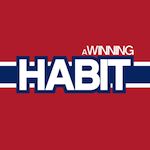 Want your voice heard? Join the A Winning Habit team!
Write for us!
Hudon will be awarded a one-year contract with a $925,000 salary which the Habs will accept. There is hope he can bounce back to the player who was close to 0.5 points-per-game just over a year ago. If not, he will be put on waivers and his whole salary will be sent to the Laval Rocket.