Montreal Canadiens Should Bring Andrei Markov Back
The Montreal Canadiens severed ties with one of the most beloved players of this generation of Habs fans when they let Andrei Markov walk in 2017. It is time to correct that wrong and bring back the crafty defender.
The Montreal Canadiens allowed a pair of Russians to walk two years ago. Andrei Markov and Alex Radulov became free agents following a successful regular season. Markov ended up back in Russia, and Radulov headed to Texas to suit up for the Dallas Stars.
It was an odd summer of moves for the Canadiens. Karl Alzner was later signed to a huge contract that he will likely be bought out from. Top prospect Mikhail Sergachev was dealt to a division rival. Nathan Beaulieu and Alexei Emelin also left town with little in return.
When the dust settled, the Canadiens were devoid of talent on the left side of their defence. They headed into the season somehow hoping Alzner, Jordie Benn and David Schlemko could help the team win a second consecutive division title.
They did not. In fact, they did not come close. But hey, they did get Jesperi Kotkaniemi out of it, thanks to being so bad that they ended up with the third overall pick.
The crater that was opened two years ago on the left side of the defence still exists. Victor Mete helps to patch it up. Brett Kulak outlasted Mike Reilly, Schlemko, Benn, Alzner and Xavier Ouellet in the battle for the second pairing job next to Jeff Petry.
This was akin to Kulak winning a turtle derby, but he played well and deserves a raise as a restricted free agent this summer. It still leaves the Habs without a third left-shot defenceman to play regular minutes next season.
The other area of grave concern was the putrid powerplay. Montreal ranked 30th on the man advantage this season. A left shot defenceman who could help out on the powerplay is a huge need this summer.
Bringing back Markov could help fill that need. When he was last in Montreal, Markov put up 36 points in 62 games. He played the past two seasons with Kazan Ak-Bars in the KHL. He scored 33 points in 55 games during the 2017-18 season and followed that up with 14 points in 49 games this season.
It is clear that Markov's offence took a backward step this season. He is also 40 years old, so there is no way he is going to set career highs in the future. However, he did lead his team in ice time this season, playing over 21 minutes per night. He was also on the ice for 13 more goals for than against.
It's not like his game disappeared to the point he could not be trusted on the ice anymore. Who would be a better mentor for the young defensemen coming up and turning pro next season? It would be the perfect stopgap for one season, as he holds a spot for Alexander Romanov who should be coming to North America next summer.
It's no secret the Habs need help on left defence. The only real option as a UFA this summer is Jake Gardiner, the Toronto Maple Leafs whipping boy for the second straight year. He would be a massive upgrade, but has warts in his game and will get a huge payday as he is the only left shooting offensive defenceman on the market.
It might make the most sense for the Canadiens to bring back Markov for one year. At the very least, he could suit up for ten games and crack the 1000 game plateau, like his old pal Tomas Plekanec did last year.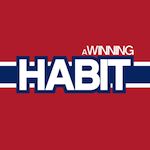 Want your voice heard? Join the A Winning Habit team!
Write for us!
At best, his hockey sense and ability to move the puck would shine once again, and the Habs blue line would be far better for it. There really is no downside to a one-year contract that could be torn up like Plekanec's if things don't work out.