A reuniting night between the Montreal Canadiens, Max Domi, and Alex Galchenyuk
The Montreal Canadiens are on the second half of a back-to-back tonight against former star winger Alex Galchenyuk and the Arizona Coyotes.
Today's game was circled on a lot of calendars after the trade. The Montreal Canadiens finally parted ways with Alex Galchenyuk who the team drafted third overall in the 2012 draft.
Galchenyuk looked to be one of the slivers of hope in a team with a goal to make it to the top. It started well for him making the team out of camp, and the rest of his tenure in Montreal had its highs and lows. One of the highs saw Galchenyuk score 30 goals during a down year for the Habs. Unfortunately, the lows were the bulk of the conversation regarding his ability to play centre.
But that saga is over now. Galchenyuk was moved to the Arizona Coyotoes while the Montreal Canadiens have benefitted from the performance Max Domi has put together since the season opener. That said, it's fitting the two teams would meet at a time when the Habs are in much need of a victory.
The Canadiens played well against the Colorado Avalanche on Wednesday, but a blunder from Carey Price and a controversial goal resulted in a loss. You also have to take into account how well Philipp Grubauer was in net for Colorado.
The team was ticking on most cylinders getting back to what won them games so far this year using their speed to attack and defend. The Habs even broke their eight-game slump scoring a power play goal via a Brendan Gallagher deflection. However, there's no place for a moral victory here. The Montreal Canadiens need a win.
Claude Julien announced earlier that there wouldn't be any lineup changes from last night. Price is also getting the back-to-back start. You could say this hints at the club's determination for the victory, but Antti Niemi has been steady in net all season. It may also be that Price has been waiting to score that 300th victory.
All make sense, and here's another possible reason. Price is a career 9-1 and has a .925 save percentage against the Coyotes. The stats don't lie; the 31-year-old plays well in Arizona.
Montreal Canadiens
Forward Lines
Tomas Tatar – Phillip Danault – Brendan Gallagher
Jonathan Drouin – Max Domi – Andrew Shaw
Paul Byron – Jesperi Kotkaniemi – Artturi Lehkonen
Kenny Agostino – Michael Chaput – Charles Hudon
Defence Pairs
Goaltenders
Carey Price
Antti Niemi
Arizona, for another season, looks to be on the outside looking in. They currently sport a 14-17-2 record (30 points) which has them 28th in the league and in prime Jack Hughes territory.
The team hasn't been able to generate much offence this season. They have no players with at least 10 goals, and their highest point-producer is sophomore Clayton Keller with 8 goals and 15 assists for 23 points in 33 games. Galchenyuk has 3 goals and 11 points to his name but has spent some time on the IR.
It also doesn't help that their goaltenders Antti Raanta – who is now injured – and Darcy Kuemper have been alright with .906 and .909 save percentages respectively. Calvin Pickard was claimed off waivers from the Philidelphia Flyers, but if you've tracked their games, he is far from a solution.
One thing to look out for is Nick Schmaltz. Arizona acquired the 22-year-old from the Chicago Blackhawks and since has 4 goals and 5 assists in 11 games. He will be a name to pay attention to as well as Oliver Ekman-Larsson on defence who is second in team scoring.
Arizona Coyotes
Forward Lines
Alex Galchenyuk – Nick Schmaltz – Christian Fischer
Richard Panik – Derek Stepan – Clayton Keller
Nick Cousins – Brad Richardson – Josh Archibald
Conor Garland – Mario Kempe – Lawson Crouse
Defence Pairs
Oliver Ekman-Larsson – Jacob Chychrun
Kevin Connauton – Niklas Hjalmarsson
Jordan Oesterle – Alex Goligoski
Goaltenders
Darcy Keumper
Calvin Pickard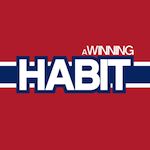 Want your voice heard? Join the A Winning Habit team!
Write for us!
Although it'll be an interesting night for Galchenyuk, it should be a special one for Domi as well. This is the team that took him 12th overall in 2013. Domi made a name for himself within the Arizona Coyotes organization as a playmaker and character guy in the NHL. If anyone on the Montreal Canadiens is going to be jumping tonight, it'll be Domi for sure.