Montreal Canadiens: Breaking down Jesperi Kokaniemi
The Montreal Canadiens selected Jesperi Kotkaniemi 3rd overall in the 2018 NHL Entry Draft who has been compared to Jonathan Toews and Anze Kopitar.
The Montreal Canadiens selected Jesperi Kotkaniemi third overall Friday night in the 2018 NHL Entry Draft. Kotkaniemi was chosen to help fill the void the Canadiens have at the center position.
Kotkaniemi from, Pori Finland, is 6'2" 190lbs left wing/center who shoots left. He is 17 years old and completed in the Finnish Elite League last year. Kotkaniemi had 10 goals, 10 assists and 29 points in 57 games with Assat Liiga. At the 2018 IIHF World U18, in which Finland won Gold, Kotkaniemi had 3 goals, 6 assists, 9 points in 7 games. His style has been compared to the Chicago Blackhawks Jonathan Toews and Los Angeles Kings Anze Kopitar.
Kotkaniemi's Attributes
Kotkaniemi is a 200-foot player. He excels in the offensive zone but doesn't lax in the defensive zone. He is as skilled with the puck as without and has the talent and skill set to lead the power play and the defensive aptitude to be on the penalty kill. After watching some film on Kotkaniemi here's what I've seen.
Shooting/Passing
Kotkaniemi is gifted with a lethal wrist shot. He has a quick release with precise accuracy allowing him to hit his targets at will. It's a dynamic duo that has served him well and should continue to do so. His passing is crisp and as Kotkaniemi is able to place the puck on his teammates' tape. Additionally, his patience allows him to make the right pass at the right time.
Puck Handling
Kotkaniemi can carry the puck up ice and through traffic. He can lead the rush and then operate in small ice to make the play by taking the shot or hitting the open man for a scoring opportunity. The Finn also uses this to continue the offensive play.
Skating
Kotkaniemi's edge work, agility and strength on his skates is apparent and impressive. He could use some more speed which with work, will come around. Overall he has great skating ability.
Offensive/Defensive Responsibilities
Kotkaniemi takes his responsibilities in his own zone seriously. He will play in the corners in both zones and is willing to be physical to separate the puck from an opponent. Kotkaniemi hustles every shift and gets into passing lanes to negate the opposition's opportunities or to free himself to get into a scoring or passing position. At the dot, Kotkaniemi is solid winning draws in most situations, especially key ones.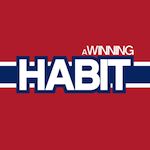 Want your voice heard? Join the A Winning Habit team!
Write for us!
Overall
Kotkaniemi, along with Ryan Poehling, are the future of Montreal Canadiens centers. Poehling plays for St. Cloud State and was the Montreal Canadiens 2017 first-round pick at 25th overall. Fortunately, he's tearing up the NCAA.
In another year or so this tandem will be a reality. With the way they play are playing now the future looks bright for Montreal Canadiens at the center position.