Montreal Canadiens select Jesse Ylonen with No 35 pick at NHL Draft
The Montreal Canadiens go to the wing and add skill selecting Jesse Ylonen with the 35th overall pick at the 2018 NHL Draft.
After taking a centre in the first-round, the Montreal Canadiens chose to go for a winger in the NHL Draft. The Finnish native is listed at six-feet and 168 pounds who is a right shot. He spent the bulk of his season playing for Espoo United where he scored 14 goals and 13 assists in 48 games.
Ylonen is a very fast player who can handle the puck extremely well. That speed that he brings to the ice aids in getting around defenders quickly without losing the acceleration he built up in the zone. As you can notice by his size, he may not have what it takes at the moment to compete professionally, but he's been playing against men and performed.
It's interesting that the Habs have gone to Europe for this selection, but there's no doubt the kind of skill he has, and that's the type of players the Montreal Canadiens need to continue to bring into the system.
Here's what Future Considerations had to say about him:
Ylonen is a slick- skating, dynamic offensive-minded forward…very smooth, fluid and explosive skater…he is agile, accelerates fast and has good top speed…is patience with the puck and waits for open lanes to set up scoring chances showing strong hockey IQ…balance and ability to angle his frame is a big asset in avoiding checks and maintaining possession…not afraid to go to the net and look for second chances, but shies away from any kind of physical punishment…has stretches where he flies around on the exterior of the rink, avoiding checks, looking for holes to penetrate to the center of the ice before making a play…a very strong puck carrier and feels comfortable with the play on his stick…possesses silky-smooth hands and can really dangle with the puck in and out of traffic…has great passing accuracy and distributes pucks in a timely and effective manner…he does need to bulk up and isn't always effective in a physical style games but his speed and IQ is what sets him apart…he has top-six offensive upside at the NHL level.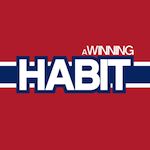 Want your voice heard? Join the A Winning Habit team!
Write for us!
It'll be interesting to see what else the Montreal Canadiens do in the second round.