Montreal Canadiens: Should They Trade Their Pick For Miro Heiskanen?
The Montreal Canadiens moved up in the NHL Draft Lottery and will pick third overall. Should they consider moving that pick to fill a dire need?
The Montreal Canadiens finished with the fourth worst record in the NHL this season. They were fortunate to move up one spot in the NHL Draft Lottery and will now pick third overall. It's rare that a top three pick gets traded, but would the Habs consider it?
Well, general manager Marc Bergevin would consider any trade as long as it made the team better. He has to keep all of his options open with such a valuable asset. The safe choice would be to keep the pick and take the best player available. That's what most people do when they are in Bergevin's position.
However, the best player available at third overall isn't a perfect fit for the Canadiens as they are currently constructed. Montreal has a huge void at center. They could also use a top pairing left defenceman. Running out Karl Alzner, Jordie Benn or David Schlemko to play with Shea Weber is just not good enough.
So a center or a left-shooting defenceman would be perfect. Rasmus Dahlin fits the bill, but will definitely be taken first overall. After that, the consensus second and third picks are both wingers. Andrei Svechnikov of the Barrie Colts and Filip Zadina of the Halifax Mooseheads are near locks to go in the top three.
Bergevin needs to get creative to try and fill a major void
They are great players, having separated themselves from the rest of the draft pack. They deserve to be top three picks based on their elite goal-scoring ability. However, neither fits a major need for the Canadiens. Though they have plenty of holes, the team is deep on left and right wing.
That means it is time for Bergevin to get creative. If he had the third overall pick a year ago, it would have been perfect. He would have proudly strode to the podium and grabbed Miro Heiskanen out of Finland.
Heiskanen is an elite two-way defender in the making. He is yet to turn 19 but scored 23 points in 30 games in Finland's top league. The 6'0 left-shot can join the rush, shut down opponents and has lots of experience, having already played two World Juniors, an Olympic Games and is currently at the World Championships.
Heiskanen played well in the postseason as well, scoring nine points in 14 contests. His numbers, smarts and skating suggest he would be NHL ready by next training camp. Those same skills would make him an excellent fit on a top pairing with Shea Weber.
Would the Dallas Stars be willing to listen?
Of course, it takes two to tango in a trade. If Heiskanen is so great, why would his current team, the Dallas Stars, even consider moving him? Well, they would be getting Zadina in return. The Stars could use a scoring winger more than Montreal, and the Habs could use a young defenceman more than the Stars.
Dallas was a solid team defensively this season. They allowed 135 goals at even strength, which was the third least in the NHL. They ranked 26th in offence at 5-on-5 scoring just 148 goals. Sure, their top line of Tyler Seguin, Jamie Benn and Alexander Radulov is great. However, they don't have much scoring depth beyond the first line.
Stars were solid defensively, need scoring depth, Habs need LD
The Stars fourth highest scoring forward, Mattias Janmark, had 34 points in 81 games. Look at the teams left in the postseason. None of them rely on one line to do most of their scoring. They have depth and can roll all four lines.
The Stars only had production from one line this season. Zadina would step right onto their second line next year and make them a more dangerous team. They'd still have a solid top four on D, with John Klingberg, Marc Methot, Esa Lindell and Julius Honka.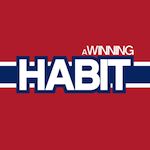 Want your voice heard? Join the A Winning Habit team!
Write for us!
Who would say no in this scenario? The Stars would add to their scoring punch without losing anyone who contributed last season. The Canadiens would be getting a third overall pick for their third overall pick. He would be more NHL ready than Zadina and would fill a huge void.