Montreal Canadiens: The price for Max Pacioretty is holding things up
Teams are calling the Montreal Canadiens to see what it would take to acquire Max Pacioretty, and there may be a waiting game if the price stays where it is.
It's a little over three weeks before the NHL Trade Deadline. The names on trade bait lists are continuing to grow, and the prices for the players being made available are continuously being updated. The Montreal Canadiens have had their wants and needs in a Max Pacioretty trade, and we learned last night that it's had another revision to it.
When it was first reported that the Habs were aggressively shopping Pacioretty, the ask was predominantly for a young scorer (probably with Pacioretty potential or PP if you will), and some smaller pieces. Then the demand moved to a young centre in return in any deal that included the 29-year-old.
According to Nick Kypreos, the Habs specifically want a first and second round pick as well as a roster player, or 'warm body' if you want to use that terminology, and a high-end prospect. We may have our good friends in Buffalo and Evander Kane to thank for this one. The price to acquire Kane hasn't changed from it's 'first, conditional pick, roster player, prospect' model, and it seems like Marc Bergevin wants to match or surpass that with the team captain.
It was also reported when the desire to officially trade Pacioretty came out that Bergevin will be willing to wait to get what he wants. This time, let's thank Joe Sakic. Matt Duchene was on the trade block in Colorado for years before he was moved and the return made it worth it.
Cautious Buyers
Kypreos mentioned that other teams aren't a fan of the price of some of these players including Pacioretty. It could go down in the upcoming weeks, but based on the feel of this situation, Bergevin may be more willing to keep him and revisit a trade in the summer.
TSN's Bob McKenzie appeared on the final hour of Overdrive last Friday and said that other general managers are reluctant to give up a king's ransom at the deadline anymore. Our third thank you for today goes to Martin Hanzal and the Minnesota Wild. No one wants to be the team that gives up a lot for a player and doesn't do much with them in the playoffs, especially when they're a pending free agent.
What the Habs have to work for them is that Pacioretty has one more year on his contract. If he is moved to Team X and they're knocked out in the first round, they'll have another full season of him after. The same thing happens if he's traded to Team Y who are hoping to make a late push for the playoffs but misses by a hair.
However, an extra year or no extra year, it's still an expensive acquisition for anyone. At the same time, if the Habs are set on the first round pick being one in 2018, the St. Louis Blues are out of the running which would be a mistake. Pacioretty has been linked to the Blues for the last little while with other things such as Robert Thomas coming the other way.
I don't know about you, but I'm slowly starting to get married to the fact that the Habs wait to move Pacioretty. There isn't any contractual pressure like what Kane, Mike Green, and Michael Grabner have. On the other hand, crazy things happen at the deadline every year.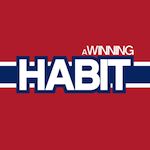 Want your voice heard? Join the A Winning Habit team!
Write for us!
Do you agree with the price for Pacioretty? Will he be moved this year or will the Habs wait? Let us know in the comments below.