Montreal Canadiens: Alex Belzile on Waivers, But Still an Incredible Story
Montreal Canadiens opening night roster for the 2021-22 season featured an odd breakdown.
They had 15 forwards, only six defensemen and two goaltenders. That gave them three extra forwards for their opening game and no extra healthy defencemen.
That quickly changed when Sami Niku returned from injury and Ryan Poehling was sent down to the Laval Rocket. This morning, Alex Belzile is on waivers and will likely be sent down to the Rocket as well to make room for Mike Hoffman.
Even though he didn't play a game and Belzile is on waivers for assignment to the minor leagues, him making an opening day NHL roster is an incredible story. The 30 year old right winger is in entering his 10th professional season and he didn't come close to the NHL for many years after completing his QMJHL career with the Rimouski Oceanic in 2011-12.
Though he was a high scoring winger in the QMJHL, Belzile was never drafted and started his pro career in the ECHL. He scored 30 points in 40 games and was called up to the Hamilton Bulldogs of the AHL for 14 games where he added eight points.
Not bad for a rookie call up right? Probably earn him a look the following year? Not a chance.
Belzile played every game of the next two seasons in the ECHL. He would score 32 goals and 81 points in 82 ECHL over those next two seasons, but it wasn't enough to earn a promotion to the AHL.
Finally, in 2015-16 he was back up to the AHL, but just for 25 games where he scored ten points. He did have 31 points in 29 ECHL games that season. The following year was more of the same: 27 points in 17 ECHL games but only 12 points in 45 AHL contests. By this time he was nearly 26 years old and it was starting to look like he would never become a full time AHL player.
But then he did.
He would play the entire 2017-18 season with the San Antonio Rampage, scoring 34 points in 61 games.
Then, the Riviere-du-Loup native signed with the Laval Rocket and he has really taken off. He has played 111 games with the Rocket over the past three seasons and scored 30 goals and 82 points. He has become a top six offensive threat at the AHL level, while also developing a keen hockey sense and awareness on the ice. He plays well above his 6'0″ and 190 pound stature and is a coaches dream as a veteran, two-way player.
Belzile played two regular season games with the Canadiens last season and made his NHL debut in the 2020 postseason in the bubble with the Canadiens. For a guy who took five or six years to really reach the AHL level, it has been incredible to watch Belzile continue to get better each year.
He may not have played against the Toronto Maple Leafs or New York Rangers last week, but no one would have guessed he would be on an NHL roster in 2021 and he has worked incredibly hard to make an opening night NHL roster.
He will play a top six role with the Rocket and will be one of the first forwards recalled when injuries hit later on this season. His story is a real testament to hard work and dedication to the game and he would make a perfect captain for the Rocket next season if Xavier Ouellet moves on.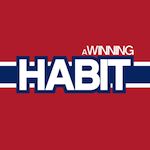 Want your voice heard? Join the A Winning Habit team!
Write for us!