Montreal Canadiens Poised to be Much Better Offensively This Season
The Montreal Canadiens had a very memorable, yet shortened, 2021 season.
Though the schedule was reduced to just 56 games, the Habs had plenty of ups and downs including a torrid start to the season, a lengthy swoon and a playoff resurgence that resulted in their best season since 1993.
While their offseason has been a busy one, and not all positive, one thing is for certain: the 2021-22 version of the Canadiens promises to be far better offensively than any iteration we have seen in years.
The Canadiens had a great playoff run last season, but the reality is they were a middle of the pack team in the regular season. They finished with a 24-21-11 record and were fairly inconsistent after a terrific ten game stretch to begin the year. The biggest reason for their inconsistency was a lack of offence, but that doesn't look like it will be as big of a problem next season.
While the team had some high profile departures this offseason, when you look at the numbers, they really didn't lose a lot of goals from last year's team.
Phillip Danault and Tomas Tatar signed elsewhere in free agency, and finding new linemates for Brendan Gallagher won't be a simple task. However, Tatar had ten goals and 30 points last season, while Danault only scored five times. The duo combined for just one goal in the entire postseason.
Jesperi Kotkaniemi was a surprise departure after an offer sheet was successful from the Carolina Hurricanes. While Habs fans had high hopes for his future in Montreal, he finished the regular season with just five goals in 56 games.
So, Danault, Tatar and Kotkaniemi combined for 20 regular season goals last season. Well, that's just three more than new Habs winger Mike Hoffman scored with the St. Louis Blues. Hoffman has a lethal shot and should transform the Canadiens power play from mediocre to dangerous as his eight power play goals were more than anyone on the Habs last season.
The Habs also lost Corey Perry who signed a two-year contract with the Tampa Bay Lightning. Perry scored nine goals last season and was the highest goal scorer to leave the team in the offseason. He excelled in front of the net on the power play and that is a role the Habs will need to fill.
Fortunately, they traded for Christian Dvorak who is terrific in front of the net on the man advantage as well. The former Arizona Coyotes centre scored 17 times last season, including eight on the power play.
Not only did the team add a couple of 17 goal scorers in Hoffman and Dvorak, but they should get a lot more from a couple of their current players.
Cole Caufield was the best player in college hockey last year and was one of the Canadiens best offensive players in the postseason. He played just ten regular season games, but was third on the team in scoring with 12 playoff points. The 20 year old winger looked great in the Stanley Cup Final against the Tampa Bay Lightning, imagine what he can do on a Tuesday night in November against the Buffalo Sabres.
Also, whatever Jonathan Drouin was dealing with last season remains a mystery, but there is little doubt he will provide more scoring punch next season. He had just two goals in 44 games before taking a leave of absence from the team, but has scored just a hair under a 20 goal per season pace since arriving in Montreal before last season.
Losing Tatar, Danault, Kotkaniemi and Perry removes 29 goals from last season's roster. Dvorak and Hoffman more than make up for that on their own, having scored 34 between them last season.
Add in whatever Caufield can do in a full season, and a healthy Drouin returning to the lineup and the Habs are certainly a deeper and more dangerous offensive team now than they have been in many years.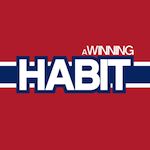 Want your voice heard? Join the A Winning Habit team!
Write for us!