The Montreal Canadiens wrap up the draft with Kieran Ruscheinski
The 2019 NHL Entry Draft wraps up for the Montreal Canadiens as they take another defenceman in Kieran Ruscheinski out of the AMHL.
And with the 206th overall pick in the 2019 NHL Entry Draft, the Montreal Canadiens call their final name and pack up their table. Considering the number of defenceman Marc Bergevin and Trevor Timmins picked on Day Two, it's only fitting they finsihed things off with another player on the backend calling down Kieran Ruscheinski.
Ruscheinski comes from the AMHL's Calgary Northstars Midget AAA team in Alberta. The first thing to notice about him is his physical frame which is 6'6″ and 201 pounds clearly making him the biggest player the Habs drafted this year.
In 33 games with the Calgary North Stars, Ruscheinski put up seven goals and four assists for a total of 11 points, up from five the year before. He also played in three AJHL games for the Spruce Grove Saints earning only a single assist.
The AJHL wasn't a league many were familiar with, but Cale Makar a top prospect of the Colorado Avalanche put it on the map. That's not to say that Makar and Ruscheinski are of the same ilk. He'll be the same as any late-round draft pick, a project worth observing in hopes of something great to come out of it.
There is not much known about Ruscheinski, but that'll likely change once Habs development camp begins (assuming he goes). But who doesn't like a good mystery right?
With Kieran Ruscheinski taken, that marks five defencemen taken at this year's draft. There's a decent chance a number of them hit but it'll be up to how each grows and develops, especially when you consider talent in the latter portions of the draft.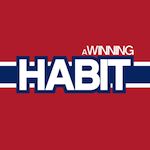 Want your voice heard? Join the A Winning Habit team!
Write for us!
Who of them stand out? Only time will answer that.