Jacob Leguerrier is the latest defenceman to join the Montreal Canadiens
The Montreal Canadiens have chosen to stick in Canada with their draft picks taking Jacob Leguerrier from the Sault. Ste. Marie Greyhounds.
At this point, Montreal Canadiens fans should assume that every pick from this point forward will be a defenceman. After taking Gianni Fairbrother from the Everett Silvertips, the Habs went to the Ontario Hockey League selecting Jacob Leguerrier for their first fifth-round pick at 126th overall.
Leguerrier is by far the biggest player the Habs have selected this weekend standing at 6'3″ and 198 pounds. Additionally, he shoots right whereas the other defenceman Montreal has taken so far have all shot left.
The 18-year-old has spent the last three years playing for the Sault. Ste. Marie Greyhounds. Generating points isn't necessarily his things as he has yet to eclipse 20 points in a single OHL season. However, this season was different as Leguerrier put up 6 goals to go along with 10 assists for a new career high.
But offence isn't what you look towards for Leguerrier. He did improve and gain confidence in that area this year, though it's his play without the puck that makes him interesting.
He's well aware of plays going on in front of him making use of his body and stick to get in the way of lanes and disrupt oncoming chances. Leguerrier isn't necessarily a physical player, but it does help that he has the size to shut down the opposition when they try to get the upper hand on him or his defence partner.
Leguerrier is also has a good degree of mobility to his play style which is good to see from a player of his size.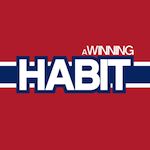 Want your voice heard? Join the A Winning Habit team!
Write for us!
When you get into the first round, you have to cross your fingers really hard. Leguerrier is a player to pay attention to but will need to round out his offensive game to be more effective.