Montreal Canadiens: Opportunity to match 2018's draft total in 2019
The Montreal Canadiens had 11 picks at the 2018 NHL Draft and could reach that number again for the 2019 event in Vancouver.
The last time the Montreal Canadiens had 11 draft picks was in 2003. The organization was able to find NHL players in Andrei Kostitsyn, Maxim Lapierre, Ryan O'Byrne, and Jaroslav Halak. This past draft in Dallas saw the Habs select 11 players again, headed by Jesperi Kotkaniemi third overall.
However, there are other names including Jesse Ylonen and Jacob Oloffson who have a lot of potential. It'll take patience and proper development to see them improve over the years, but management looks committed to that aspect of player acquisition for the future.
The 2019 NHL Draft may be a similar story for the Montreal Canadiens. They so far have a total of nine picks. Five of them are their own as they traded their fifth-round pick to the Vegas Golden Knights in exchange for David Schlemko and their seventh-round pick to the Philadelphia Flyers for a 2018 seventh which Montreal used to draft Brett Stapley.
Additionally, the Habs have Calgary's fourth-round pick, Chicago's and Edmonton's fifth-round pick that they got in exchange for Hayden Hawkey, and Winnipeg's seventh acquired in the trade for Joel Armia and Steve Mason. It will only take two more selections to meet that total from 2018, which shouldn't be hard to obtain at all.
You'd expect Montreal will get a number of picks in a trade involving Max Pacioretty, preferably a first. Perhaps down the stretch teams start to inquire on some the Habs pending UFAs like Jordie Benn. Tomas Plekanec could be an option again as he got the Montreal Canadiens two prospects in Rinat Valiev and Kerby Rychel as well as the draft pick that resulted in Oloffson.
Of course, it comes down to what position the team is next season. The overall perception is that the Habs will be competitive, but wind up on the outside looking in again. But who knows what can take place if Carey Price returns to form. Regardless of that, the Montreal Canadiens still have a chance of heading into the 2019 Draft with a good number of draft picks.
In the cap era, making sure that the cupboards are always stocked is the difference between long-term and short-term success. The Habs are in a decent position now in terms of the contracts they have on the books, but they'll come a day where some of their top players need to get paid. Once that happens, young players on entry-level contracts who can step into a lineup and perform will be critical.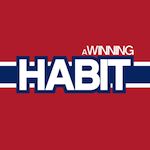 Want your voice heard? Join the A Winning Habit team!
Write for us!
The only way the Habs can do that is to keep their draft pick pool up and put them to good use.