Montreal Canadiens select Brett Stapley with No 190 pick at NHL Draft
The Montreal Canadiens acquired a seventh-round pick from the Philadelphia Flyers and used it to select Brett Stapley 190th overall.
We initially thought the Montreal Canadiens were all done with their selections at the 2018 NHL Draft. Samuel Houde was thought to be their last guy, but Marc Bergevin went back to the board in the seventh round. The Habs acquired the pick from the Philadelphia Flyers in exchange for their own pick in that round at next year's draft. They then took Brett Stapley with it.
Continuing on with the trend for the Montreal Canadiens in the draft, Stapley is a centre. He's also an undersized one standing at five-foot-ten and 170 pounds. The 18-year-old the last three seasons playing for the Vernon Vipers of the BCHL. He was also ranked 177th among North American skaters on the NHL Central Scouting list.
Stapley scored 27 goals and 32 assists in 52 games for the Junior A team. Considering where he plays the Campbell River native is a bit of a mystery.
His ability to score goals set him apart on the team, and a lot of them came in bunches. He was named BCHL Player of the Week at the beginning of the season after scoring four goals in two home games.
Based on some quick clips, Stapley looks to be a guy who isn't afraid to stay in the slot to score. His size isn't a disadvantage to him either as he's right there fending off other players and isn't afraid to drop the gloves either.
Stapley looks to be done with Junior A as he is committed to play at the University of Denver next season. That will definitely give fans a better opportunity to see what he can do. His numbers with the Vipers hint at a decent amount of skill and awareness of the ice.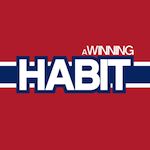 Want your voice heard? Join the A Winning Habit team!
Write for us!
Don't disregard Stapley because of where he was drafted. Jake Evans was taken in the seventh round of the 2014 NHL Draft and looks to be a solid prospect for the Montreal Canadiens.